Lead Instructor: Brian Burkett
Brian Burkett is the founder and Lead Instructor of LifeTrek Martial Arts. He lives in Newburgh with his wife & children. They are members of Family Bible Church, where they frequently assist with leading worship. Brian is the Business Development Manager for a local technology consulting firm, and enjoys opportunities to volunteer through his membership in Evansville Rotary.
Brian is a Sam Dan (3rd Degree Black Belt), and began his training with the World Tang Soo Do Association at the Montgomery Tang Soo Do Academy (now River Region Martial Arts) under the instruction of Master Michael W. Hicks  in 1989, earning his black belt in 1992. Over the years, he's been blessed to place in numerous regional and world competitions, forming friendships with people all over the world. He was awarded Grand Champion in the Senior Male Division at the Region 6 2019 Spring Championship, as well as the 2021 Fall Championship.
Brian has had the opportunity to practice and train with practitioners of Hapkido, Judo, Muay Thai, Tae Kwon Do, Krav Maga, Brazilian Jiu-Jitsu and other disciplines. While he would never hold himself out as an expert, or even proficient in any of these other styles, these opportunities have added incredible value to Brian's understanding and application of self-defense concepts.
New Student Director: Josué "Mr. Z" Barros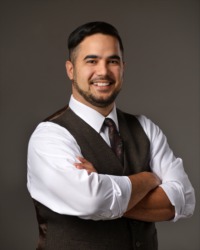 College brought Mr. Z to the states. A local girl kept him here. As our New Student Director, Mr. Z is in charge of making sure our new students know the basics and have a great foundation for growth in Tang Soo Do.
Mr. Z is a graduate of the University of Southern Indiana where he majored in radio and advertising and international studies. By day, he is a Realtor working with families on buying or selling their homes.
On the personal side, Mr. Z and Carrie (aforementioned local girl) now have four kids who are homeschooled but are only slightly weird.
When not spending time with local girl and slightly weird kids, Mr. Z volunteers for Junior Achievement of Southwestern Indiana, serves as the youth leader at Resurgence Church on the south side of Evansville, and practices Tang Soo Do and Brazilian Jiu-Jitsu.
Mr. Z currently holds the rank of Cho Dan (1st Degree Black Belt) and is a Certified Instructor with the World Tang Soo Do Association.